Telstra launches Australia's first 4G network
Posted on 27/09/2011 | in Telstra | by Mark Fury
Telstra switched on it's 4G network this morning, along with the release of their first 4G capable wireless broadband dongle. The new 4G network is only currently available in the centre of capital cities, airports and select regional centres.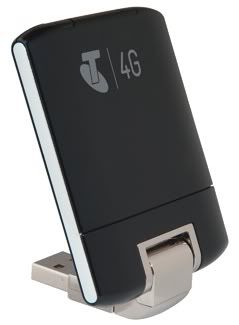 Telstra is Australia's first mobile carrier to launch commercial 4G LTE (Long Term Evolution), Optus and Vodafone Hutchinson Australia are expected to switch on their 4G LTE networks next year. Telstra also plans on releasing more 4G capable equipment next year, including the release of 4G capable smartphones and tablets.
The new 4G network currently offers download speeds from 2Mbps up to 40Mbps, which Telstra says is 25 times faster than the speeds that were available on their 3G network when it first launched. Upload speeds on the network currently range from 1Mbps to 10Mbps.
Telstra expects to have their 4G network rolled out to 80 regional centres by Christmas 2011. The 4G networks are currently limited to a 5km radius from the general post office in cities, modems will revert to the 3G network when users leave 4G areas. Telstra also claims that the new network's latency, the time it takes for data to travel, is half that of the 3G network.
The modems are manufactured by Sierra Wireless and are available for BigPond customers on 24 month plans. Plan information is listed below:
BigPond Liberty 1GB 1GB of data per month 24 months From $19.95
BigPond Liberty 4GB 4GB of data per month 24 months From $29.95
BigPond Liberty 8GB 8GB of data per month 24 months From $39.95
BigPond Liberty 15GB 15GB of data per month 24 months From $79.95
Sources: The Sydney Morning Herald, Telstra Mobile Broadband